Welcome to our Website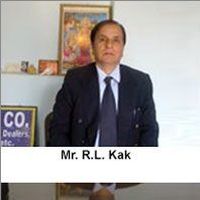 KAK & CO. has made its dominance in the Food and Agro industries, owing to the matchless assortment of Food & Agro Products, it offers. The company is thus named as one of the dynamic Food Products Suppliers from India. The comprehensive assortment of our Food Products encompasses Dry Fruits, Cumin Seeds, Honey, and Saffron. These Food Products are known for their high quality and rich nutritional content.

Based in Jammu (Jammu & Kashmir), the company got established in the year 2011. Mr. Roshanlal Kak, MA Economics with Specialisation in Agricultural Economics the experiences Proprietor of the enterprise, has put in his best efforts to take the company towards sky-scrapping heights in the industry. The Food & Agro Products, offered by us, are supplied to various reputed companies dealing in FMCG, Pharma Products, Cosmetics, Ayurvedic Products, and also to hotels, restaurants, etc.
Read more...
Contact Us
Phone : +91-191-2586588
Mobile : +91-9419114829
Call Us : 08048116182